In lieu of our in-person Evening of Hope fundraising gala, we are reaching out to the heroes who supported us in the past.
While we cannot convene a full-blown Evening of Hope in a big, beautiful ballroom, we are hoping you will renew your partnership with Seeds of Hope as a force for good and be the heroes our students, schools and society desperately need.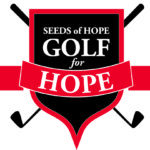 Golf for Hope 2020 Tournament
Was Held on Monday, August 10
It was a picture-perfect golf day and a gift to host our annual golf event at the Columbine Country Club. We were blessed to have Archbishop Aquila and four of our awesome priests join us and grateful the Lord graced us with awesome Colorado weather that was better than we could have scripted. The positive energy from visiting with groups and hearing the laughter and cheers all day long will provide us with strength to carry on for some time now.
1300 South Steele St, Denver, CO 80210