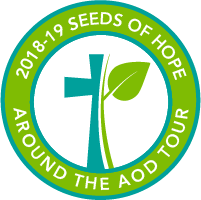 Seeds of Hope, in conjunction with Archdiocese of Denver Catholic schools, will present the 2018-19 Around the Archdiocese of Denver (AoD) Tour, hosting open-to-the-public school tours at each of the K-8 and high schools that will showcase the faith formation and learning taking place in each of the 36 Archdiocese of Denver schools.
The Around the AOD Tour kicks off on Oct. 2, 2018 and runs through Apr. 30, 2019. To commemorate the tour stops, each person who visits a school on the 2018-19 Around the AoD the Tour will receive a free 2018-19 Around the AoD Tour t-shirt. A representative from Seeds of Hope and a tour guide from each school will greet and lead visitors. This is a chance to see inner workings of the schools, ask questions of leadership and see up close the differences the schools are making in their communities every day. No matter where somebody is in the Denver Metro or Northern Colorado area, there is a 2018-19 Around the AOD Tour stop coming soon to their community.
"We want people in their communities to be able to see firsthand how our schools are building the Kingdom of Heaven here on earth," said Seeds of Hope Executive Director Jay Clark. "Our schools are the future of our Church and seeing the students and teachers in action with school leaders is an incredibly inspiring way to spend an hour."
Signing up for a tour is easy – just fill out the form below, call 303-715-3127 or email info@seedsofhopedenver.org to choose a date and t-shirt size.
2018-2019 Seeds of Hope Around the AoD School Tour Schedule
| | | |
| --- | --- | --- |
| School | Date | Time |
| Sacred Heart | Tuesday, October 02, 2018 | 11:00 AM |
| St. Louis | Tuesday, October 02, 2018 | 1:00 PM |
| Annunciation | Tuesday, October 09, 2018 | 11:00 AM |
| St. John the Baptist | Tuesday, October 16, 2018 | 9:30 AM |
| St. John the Evangelist | Tuesday, October 16, 2018 | 11:30 AM |
| St. Joseph | Tuesday, October 16, 2018 | 1:30 PM |
| Holy Family HS | Tuesday, November 06, 2018 | 11:00 AM |
| Nativity of Our Lord | Tuesday, November 06, 2018 | 1:00 PM |
| St. Mary - Greeley | Tuesday, November 08, 2018 | 1:00 PM |
| Most Precious Blood | Tuesday, November 13, 2018 | 1:00 PM |
| Our Lady of Lourdes | Tuesday, November 13, 2018 | 11:00 AM |
| St. Vincent de Paul | Tuesday, November 13, 2018 | 9:00 AM |
| Bishop Machebeuf HS | Thursday, November 15, 2018 | 11:00 AM |
| All Souls | Tuesday, December 04, 2018 | 11:00 AM |
| St. Mary - Littleton | Tuesday, December 04, 2018 | 1:00 PM |
| Blessed Sacrament | Thursday, December 06, 2018 | 11:00 AM |
| St. James | Thursday, December 06, 2018 | 1:00 PM |
| Frassati Catholic Academy | Tuesday, January 15, 2019 | 11:00 AM |
| | | |
| --- | --- | --- |
| School | Date | Time |
| St. Rose of Lima | Thursday, January 17, 2019 | 11:00 AM |
| Notre Dame | Tuesday, January 29, 2019 | 1:00 PM |
| Our Lady of Fatima | Tuesday, January 29, 2019 | 11:00 AM |
| Assumption | Tuesday, February 05, 2019 | 11:00 AM |
| Holy Trinity | Tuesday, February 05, 2019 | 1:00 PM |
| St. Francis de Sales | Thursday, February 07, 2019 | 11:00 AM |
| Shrine of St. Anne | Tuesday, February 12, 2019 | 1:00 PM |
| Sts. Peter & Paul | Tuesday, February 12, 2019 | 11:00 AM |
| Our Lady of Loreto | Tuesday, February 19, 2019 | 1:00 PM |
| St. Thomas More | Tuesday, February 19, 2019 | 11:00 AM |
| Christ the King | Tuesday, March 05, 2019 | 1:00 PM |
| Good Shepherd | Tuesday, March 05, 2019 | 11:00 AM |
| Guardian Angels | Thursday, March 14, 2019 | 1:00 PM |
| St. Catherine of Siena | Thursday, March 14, 2019 | 11:00 AM |
| St. Pius X | Tuesday, March 19, 2019 | 1:00 PM |
| St. Therese | Tuesday, March 19, 2019 | 11:00 AM |
| St. Clare of Assisi | Tuesday, April 30, 2019 | 10:20 AM |
| St. Stephen | Tuesday, April 30, 2019 | 12:30 PM |
1300 South Steele St, Denver, CO 80210