Denver Catholic: Four questions for new Seeds of Hope head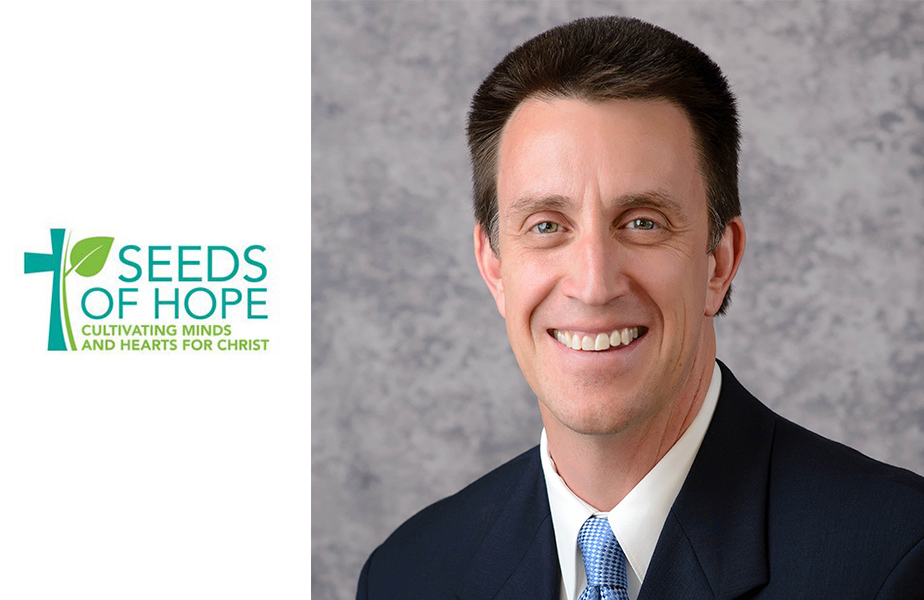 The following story was published by the Denver Catholic on July 26, 2017.
Jay Clark brings wealth of successful for- and nonprofit leadership to role
by Roxanne King/Denver Catholic
On June 30, Seeds of Hope Charitable Trust got a new executive director.
Jay Clark, 53, who has worked in communications in both for- and nonprofit entities, is now charged with leading the organization dedicated to making Catholic education available to needy children.
Clark's previous positions include heading media relations for the Denver Nuggets basketball team, working as a founding manager and then as executive director of Gold Crown Foundation youth sports, founding Wolfpack Communications marketing and public relations firm, and serving as executive director of Adams Camp, which aids special needs kids.
At Adams Camp, Clark exceeded fundraising goals and increased donor participation in annual giving. At Wolfpack, he won kudos from Gold Crown founders Ray Baker and former Nuggets great Bill Hanzlik, who were among his clients. While at Gold Crown, Clark oversaw the organization's two building projects—the Gold Crown Field House and the Coca-Cola All Star Park—which both came in on time and under budget.
Born and reared in Englewood, Colo., Clark earned a bachelor's degree in technical journalism from Colorado State University. He is a convert to Catholicism from Methodism, is married and is the father of two young adult daughters.
He recently spoke to the Denver Catholic about his new role. The interview has been edited for clarity and conciseness.
DC: How have your previous positions prepared you for this role?
Clark: I started my career in public relations, which was a great way to learn how to serve people. [First] I was in a position of serving media; then I was the PR guy for the Denver Nuggets. I left to help Bill Hanzlik … expand his [Gold Crown] foundation. [It] was great to learn from the ground up how a nonprofit starts and grows. Being around Bill and his partner Ray Baker, who's my mentor, you just learn how to treat people with respect. That's helped to prepare me for Seeds of Hope because it's all about service: How do we serve the students? How do we serve the donors? Everything in my career has led me to this.
DC: What is your goal for Seeds of Hope?
Clark: The goal is making Catholic education accessible to anybody who wants it. With the expansion that we're now looking at in the near future [to offer Seeds of Hope aid to needy students attending any of the Denver Archdiocese's 37 Catholic schools beyond the nine urban schools currently served starting in the 2018-2019 academic year] the ambitions the system has and the archdiocese has, it's an exciting time to really help make this opportunity accessible to anybody who wants it. It's exciting and pretty ambitious.
DC: What is your vision for achieving that expansion?
Clark: I'm learning at Mach speed working with the folks at the Catholic Alliance [a consolidation of eight Catholic ministries to share resources]. We'll come up with a great development plan [that entails] working closely on the events to grow our donor base [and] to getting the message out. This organization has been around a long time and a lot of people know about it, but you can always expand that circle and get more people who share the same kind of vision. Not only are you helping to make [Catholic] education available to anyone who would like it, but the bigger picture is you're also pushing forward the future of the Church. There's a lot of opportunity out there and with all of us working together … we'll be able to meet those visions and those ambitions.
DC: Is there anything you would like to add?
Clark: When I joined the Church [in 2011] it was a real calling and I thought, wouldn't it be great if someday as part of your career you could serve your faith? To be here in this position and to have this opportunity to serve my faith, to help build the future of the Church, I'm grateful. It's a magnificent opportunity, a real chance to give back to my faith, which has been a turning point in my life. I'm so grateful and I'm excited to take that enthusiasm into the schools.