Join us for an evening of faith, food and fun. 
Friday - July 31, 2020
5:30 - 9:00 p.m.
Hosted by the Archdiocese of Denver to benefit Seeds of Hope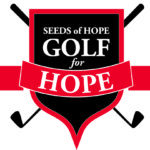 Golf for Hope 2020 Tournament
Cherry Creak Country Club
Between a beautiful Colorado golf course, the infamous Prize Draft and the chance to spend a day surrounded by friends, this event sells our each year.
We look forward to seeing you on the tee!
1300 South Steele St, Denver, CO 80210