Interview with Mr. John Zimmerman, Seeds of Hope Board of Directors Chairman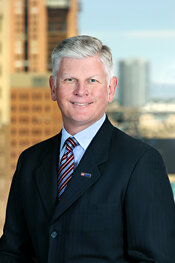 John Zimmerman serves as Seeds of Hope's Board Chairman. John has seen Seeds of Hope through major transitions and expansions in his time on the board and as Chairman. In his day job, John serves as President of Ascent Private Capital Management, where he leads the efforts to provide clients with the integrated services they need to provide for their families and secure a legacy that can transform the world for generations – not unlike his work at Seeds of Hope!
What motivated you to become involved with Seeds of Hope?
I strongly believe education is the only way to permanently change the course of a person and family's life for the better. Seeds of Hope is one of the few organizations that offers the families we support a real way to permanently alter their futures.
What is the most rewarding part of serving Seeds of Hope?
Hearing how our mission has positively impacted the lives of the students we support and their families. Seeing the families and students we support thrive in high school and successfully go on to college, many of which are the first to do either in their families, is unbelievably rewarding.
What is a favorite memory or experience from serving Seeds of Hope?
My first visit to St. Rose of Lima was a very powerful experience. It was a snow day for the high schools but St. Rose was open. One of the high school students who graduated from St. Rose the previous year was in the hallway and said he hangs out there because it feels like home. Seeds of Hope gives our students a sense of belonging and the opportunity to be part of something bigger than themselves.
Why do you believe in Catholic education?
Catholic education gives students the opportunity to develop spiritually and academically. The combination of spiritual and academic formation provided in a Catholic education make a person whole and far more able to contend with the complications of our world. The witness to the truth in Christ is a major problem with our society. By creating deliberate disciples, these students will be equipped to continue advancement in their faith and be witnesses to the world. We have three boys who attended Catholic schools from kindergarten through high school, two of which went on to Jesuit colleges. I can absolutely witness to the positive impact Catholic education has had on my boys and our family. The experiences and formation they received from their Catholic educations has been tremendous and has set them on a great path for life.
What impresses you about AOD Catholic Schools?
The dedication of the faculty and staff, and more recently the amazing leadership of Elias. It's awesome to have such wonderful professionals in our schools.
Why do you give to Seeds of Hope?
It's all of the above! Without our help, these schools will wither and not be able to provide for our students and the persistent cycle of poverty is likely to continue. In a very real sense, we are changing the future, one student at a time.
What would you say to somebody who is considering supporting Seeds of Hope?
Seeds of Hope is dedicated to the formation of the entire person. Through our commitment to Catholic education, our students are set on a path of light and truth which is a positive path that will alter their lives forever.