Former Seeds of Hope Recipient Gives Back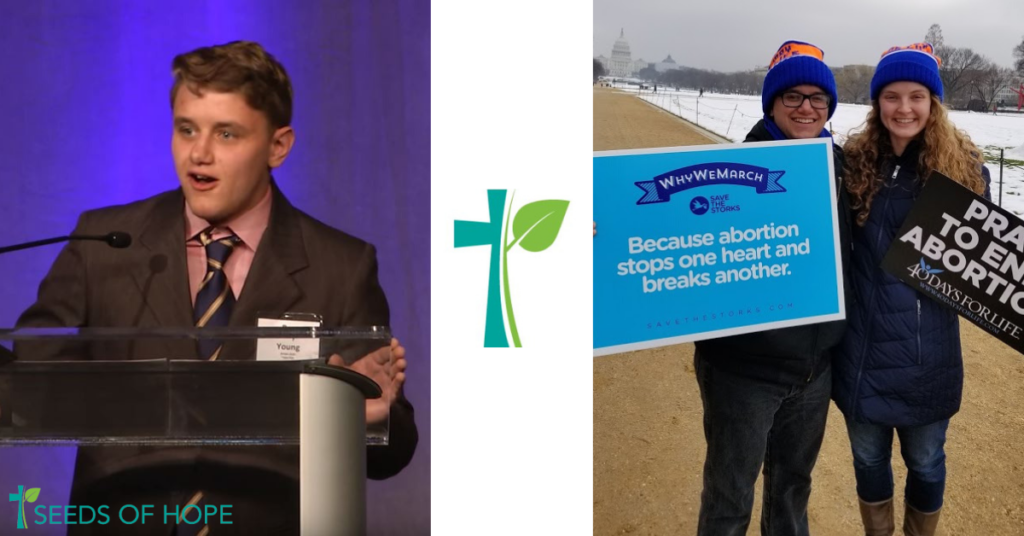 Ray Young is a long-time friend of Seeds of Hope. Some readers may remember him from the multiple times he spoke at Seeds of Hope events. Since his time as a student in the Archdiocese of Denver, Ray has grown into an even more devoted young man on a mission to give back and share the Good News of Christ with the world!
Ray attended St. Louis Catholic School for elementary and middle school and then moved on to Mullen High School, his family receiving Seeds of Hope scholarships throughout his elementary and middle school careers to be able to afford tuition. Ray continued his Catholic education at University of Mary in North Dakota, from which he will graduate in May 2019; after graduating, he intends to earn his MBA in Catholic Philanthropy. He says,
"We as Catholics have been given the greatest treasure in all the world: the Catholic Church and all that She teaches. It is so very important that future generations receive this gift from us. … No one should be deprived of such a gift as this, and it is our duty as Catholics to give this to our brothers and sisters, unfettered and undefiled, so that all may come to know the God who so loved the world to give His only son to redeem it."
When asked about how his Catholic education in elementary, middle, and high school prepared him for college, Ray says this:
"My Catholic education prepared me for college with personal one-on-one connections with teachers who took time to learn my needs and spend extra time with me filling in any gaps I had. The education I received was guided by Faith and Reason which allowed us to learn to think critically of secular ideas. Our bioethics class delved into the moral implications of abortion, euthanasia, and sex. Another class on Saint John Paul II's Spirituality of the Body taught us what love really is, and our science and math classes prepared me for the future courses I would be taking. Our advisors helped us prepare for college with applications, SATs and ACTs, and all of the curves life throws at you when you are graduating high school. We had small classes and teachers who genuinely wanted our success."
In speaking with Ray, his deep gratitude for all those who have helped him, including Seeds of Hope, is more than apparent. He is motivated to impact the world for Jesus and bring souls to Him! In addition to graduating from college and pursuing a graduate degree, Ray has been busy. He spent a semester abroad in Rome studying Sacred Art, Church History, and Western Civilization; he says this experience impacted him profoundly. Ray also recently got engaged to his fiancée Meghan (pictured) on the Feast of the Annunciation! He hopes to someday work for the Church, share the gift of faith with others, and contribute to Seeds of Hope himself.
Please join us in praying for Ray and all his endeavors!
If you'd like to support other students just like Ray, please click here. To learn more about Seeds of Hope, visit us at seedsofhopedenver.org or call us at (303) 715-3127.